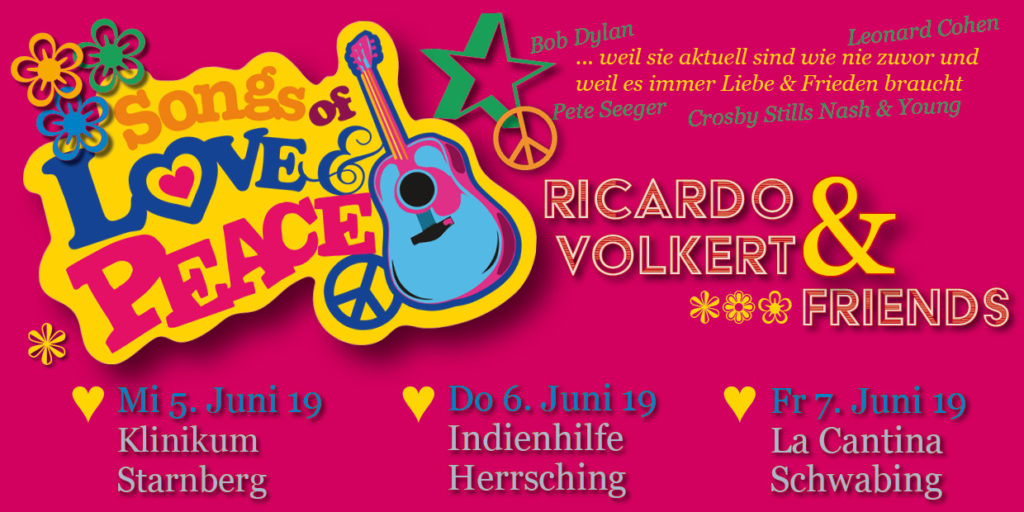 Seit diesem Jahr bin ich Mitsängerin in einem so sinnvollen wie notwendigen wie zeitlosen Musikprogramm, den "Songs of Love&Peace". Initiiert von meinem langjährigen Freund Ricardo Volkert, Flamencogitarrist und Sänger, der seit 30 Jahren auf Bühnen steht mit Programmen, die er kreiert, MusikerkollegInnen dafür findet, die Ensembles dann organisiert und mit ihnen tourt.
Anlässlich der Verabschiedung des Kulturreferenten Freisings im Okober 2018 kamen wir endlich mal wieder zu einem Konzert zusammen. Ricardo bat mich, mitzusingen bei einem spanischen Stück, bei dem ich jahrzehnte vorher (2003) auf seiner CD Background gesungen hatte (Sidenote: obwohl wir uns auch damals schon längst als Musiker kannten, entstand die musikalische Zusammenarbeit lustigerweise erst nach der gestalterischen, seit 2002 layoute ich für Ricardo alle CDs, Flyer und Plakate).
Beim Einsingen in der Garderobe stimmt Ricardo was von Pete Seeger an, ich stimme mit ein, Dirk ebenfalls, und während Ricardo noch erzählt, dass er gerade ein Programm zusammenstellt mit Songs of Love & Peace, weil er der Meinung ist, dass es das sowieso immer, aber im Moment ganz besonders braucht, sind wir schon in der Band.
Seitdem wird viel Text auswendig gelernt (ich sag nur Bob Dylan), werden Arrangements ausgetüftelt, Stimmen verteilt, mittels Filesharing geprobt, auch mal live, wenn wir in Bayern sind. Ricardo findet als fürsorgender Manager zeitlich topp aufeinander abgestimmte Auftritte und unser erstes Toürchen hatten wir im Juni 2019.
Update April 2020: Jetzt gerade wäre die nächste gewesen, aber aus bekannten Gründen wird es doch erst 2021 – dafür mit bereits 7 Terminen April bis Juni, das wird also ne amtliche Tournee!